We understand what you want to know is impressions by worker!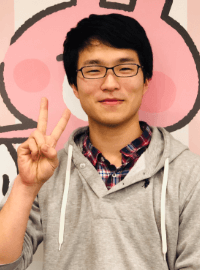 New recruited programmer Mr. Yuya Ikadai
I interviewed Mr. Yuya Ikadai who will join studiofake from April 2019.
Why do you want to apply studiofake?
In fact, I did not have active reason at first. I was just recommended to work on an internship from a school teacher.
Obviously, I am really surprised to work here because everyone has kindness and politeness so much!!
During my internship, I like this company so much that I readily agree to get a job offer!
How do you feel working here?
Actually, I don't feel like I am a programmer yet that because I mainly work at as an assistant. Depending on thoughtfulness by people around me, it is never harder burden than I expected!
It is little bit hard to say my feelings actually, but I am calmed down by other stuffs while working.
Can you explain your feelings compared to before you came here?
Well, I did not get clear vision what I should do at studiofake so that made me worried about my internship. Once I started, they do their best at any time. Of course even for my training, they are politely and kindly training me.
Anyway, I'm really satisfied with their styles.
What kind of company is studiofake?
Tough I looked your HP, I actually didn't see what kind of games you make and I little bit concerned about it.
Thus I was surprised that like "What a cute game you are making!"
*He is belongs to the development team of Piske& Usagi Go Rocket Go!
Who do you recommend this company?
Of course who likes game! Moreover, I recommend the person who likes talking even if you are shy at first. When you hear that studiofake is forced on our communication skills, some of you may be worried about it but it dosen't matter.
Although I am shy guy at first, I am never stuck at work lol. Everyone is friendly so that I can be relaxed.
Can you explain more details about studiofake? For example, people, atmosphere and so on.
Well, this is a hard question lol.
First of all, I don't see a person who lacks flexibility and is obstinate in this company and I can see the tenderness like a family. I mean it is truly meanings! Sometimes, It is said "at home company" is a company that habitually flouts labor regulations but I do not mention it. lol
They are really at home like a big family.
It is easy situation to understand when someone gets angry with others. Actually I am really scared about it but I realized they are under the control and they can have angry talking for others. They are trust to improve each other so they sometimes use strong conversation. I like more this company when I realized it.
If you can apply studiofake and work for internship, you could deeply understand this atmosphere and good aspects more.
How do you feel the office with a dog?
Oh, it must be coati! She is just cute!
I want to interact with her more! I wish we would get along with each other.
Anyway, I like animals so I am healed by watching het greeting with others.
Thank you for Ikadai-kun!